Frequently Asked Questions
Please find here the answers to the most frequently asked questions about our products, delivery times, payment options, etc.
If the answer to your question is not here, please email us or call us on +33(0)2 98 96 08 12.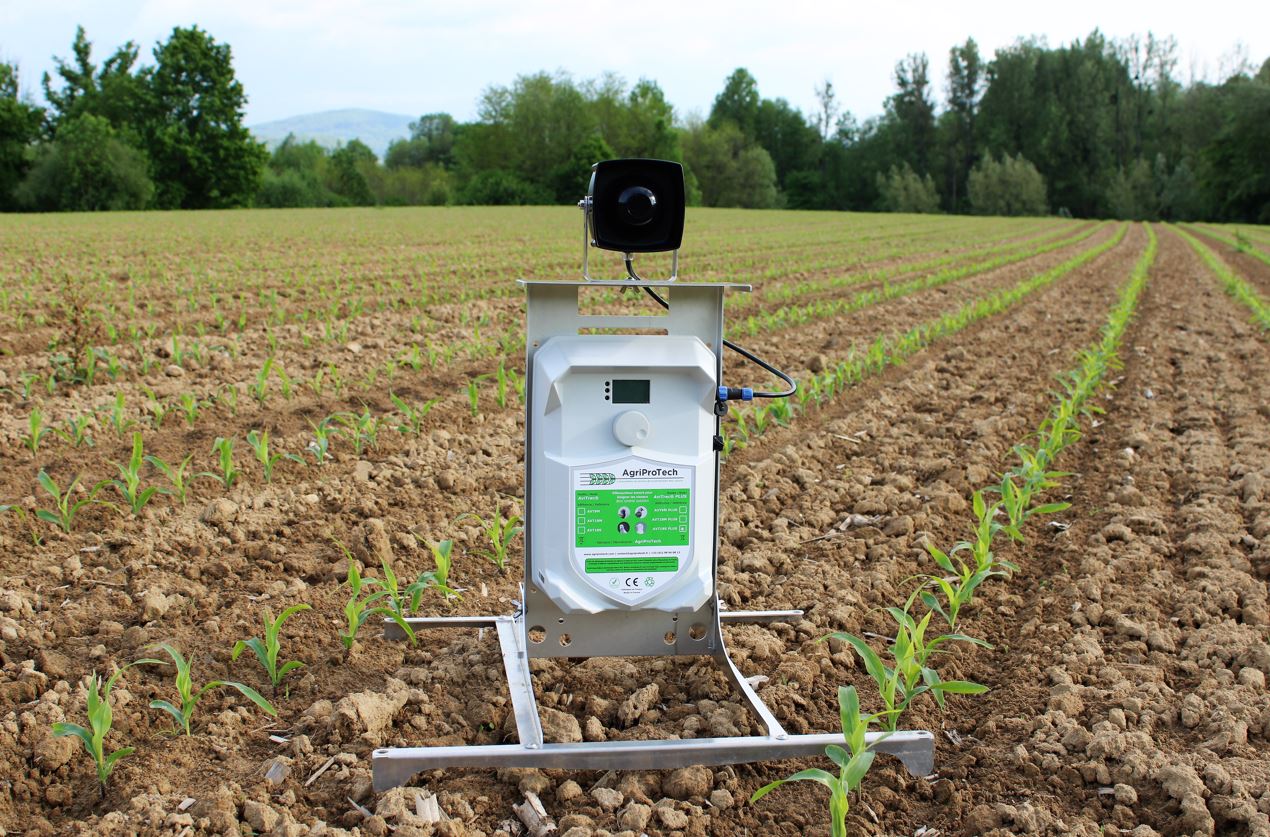 The sound level of this electronic repeller is adjustable. It is therefore possible to adapt the acoustic level to the environment, whether it is used indoors or outdoors.
Birds are smart. Some bird species considered as "pest animals" are very well organized and very good observers. When the pressure for food is growing (e.g. arrival of juvenile birds) they will be more likely to take risks to access it.
This is why the AviTrac® acoustic bird repeller  includes a patent-pending system that will keep surprising birds. The large number of scaring signals is a key element to ensure successful bird control.
In some case of very high bird pressure, it is necessary to provide several bird control methods. Visual scares such as bird scarer kites, balloons and holographic tape can reinforce the acoustic deterring effect.
Initially, this electronic device was developed, several years ago, to keep corn and sunflower fields free from birds attacks.
The growing pressure of pest animals on the agricultural sector convinced us to market  the AviTrac® system.
Current products are improved and upgraded versions of the original design. They offer greater autonomy and the possibility of using removable memory cards, in order to increase the number of scaring signals.
They can also be used on a fixed installation and are widely appreciated for their flexibility.
This is a frequently asked question and the answer is no.
Please find below the comparative table showing the principal differences between these two bird control devices:

We work with pilot farms (grain farmers, vegetable producers, organic farms, etc) and collect their feedback.
The use of AviTrac® acoustic bird repeller  offers a significant reduction in birds damage and keeps them away from fields and other areas.
In order to efficiently and lastingly keep pest birds away, it is better to use AviTrac® bird repeller preventively. The later a solution is implemented, the harder it will be to control birds.
If the birds have been present at a given location for a long time, an acoustic repellent method alone may not be sufficient. For species that generally live on a "territory", they will not leave it easily. This is often the case with seagulls. Therefore, several bird control methods will be necessary to protect the infested area.
Please feel free to contact us if you are facing this type of situation.
The typical operating life is 3 weeks (one signal emitted every 20 minutes).
Once the battery is discharged, the whole unit can be recharged from an external electricity supply (in 8 to 10 hours).
Caution: To charge the battery, the charger must be connected to the bird repeller and plugged into a wall socket.
If the wall plug is not connected to the wall socket, the repeller battery will discharge despite the green LED.
The scaring signals used have been developed based on in-depth studies and research on birds' behavior. Initially developed to help with Wildlife Hazard Management in airports, they have been specially selected for their efficiency to repel pest birds such as seagulls, crows and ravens, starlings, etc.

The signals are randomly emitted in order to prevent the adaption effect. User feedback has shown a real efficiency of the AviTrac® acoustic bird repeller.

However, in some special cases, where bird infestation is very heavy, the acoustic repelling method may be insufficient. If you are facing this type of situation, please contact us so that together we can find the best solution.
Yes, please contact us by email or phone (+33 298 96 08 12) to get a personalized quote.
All our products have the CE mark, which signifies that the device meets basic health and safety requirements and guarantees that our products meet all current European standards. The AviTrac® range of products is also RoHS compliant. This directive limits the use of certain hazardous substances in electrical and electronic equipment. To know more about RoHS directive, please follow this link.
Please consult our guide on bird control solutions on the Tips and Advice page. You will know which kind of deterrent solutions can be used on the birds you want to get rid of.
We accept Visa, CB and Mastercard for online payment. You can also choose a wire transfer and your order will be sent as soon as we receive your payment. You will find more information on the Secure Payment page.
Of course! Please contact us via the contact form or by phone on +33 298 96 08 12. We are always looking for new partners and we will reply as soon as possible.
It will be our pleasure to answer your questions. Please contact us via the contact form or by phone on +33 298 96 08 12.